Gretchen Andrew – Artist in Residence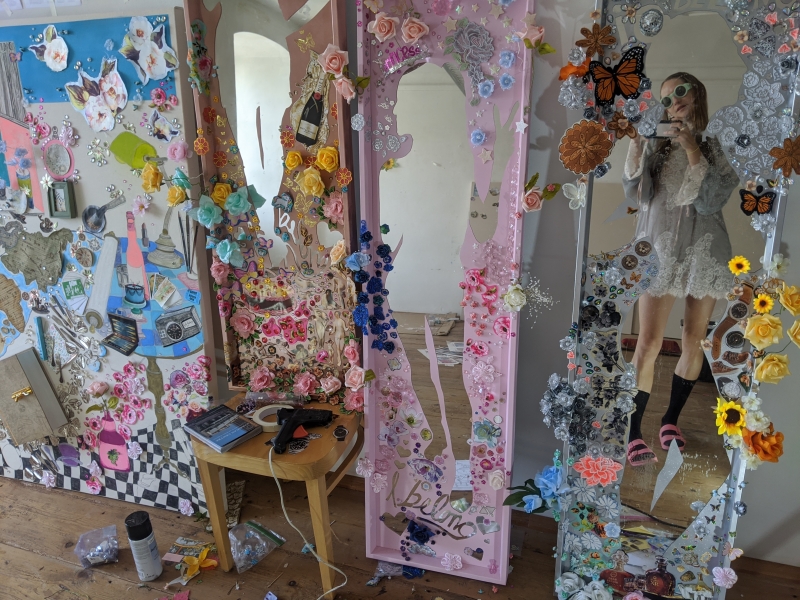 Images:
Gretchen Andrew with at the Salzamt with her Map of the EU series.
https://photos.app.goo.gl/Lai1FiwdzT6hcqN76
Gretchen Andrew's work "Map of the EU (Paris)" to be seen at the Fancisco Carolinum opening October 16.
https://mapoftheeu.files.wordpress.com/2021/02/map-of-the-eu-1.jpg 
Gretchen Andrew's work "Map of the EU (Earth)" to be seen at the Fancisco Carolinum opening October 16.
https://mapoftheeu.files.wordpress.com/2021/08/map-of-the-eu-10.jpg
Interview with Gretchen Andrew – Artist in Residence
Please discribe the work you want to realise in Linz
I have come to Linz at the invitation of the  OÖ Landesmuseum for an exhibition at the Francisco Carolinum that opens on October 16. Through the generosity and collaboration of  OÖ Landesmuseum with the Salzmat I have been able to spend 3 months in Linz both finishing my work for the exhibition and working closely with the museum staff to make the best exhibition possible. I am making works in three series that will be shared at Trust Boundary in the Francisco Carolinum.
"Contemporary Art Auction Record" 
Explores the art auction system, my place in that system, and how women make up only 2% of the contemporary art market. The Vision Boards in this series visualize how it will feel when my work is sold for astronomical prices at auctions.
Imagines Gretchen's work on the cover of The New York Times Art section, manifesting her personal and professional aspiration to have her work featured in a major newspaper.
Takes the ever evolving map of the EU as a symbol of the quest for belonging, our historical amnesia and lack of imagination when it comes out how we set boundaries. Everything computers do is built on a 1s and 0s binary way of thinking.  This limitation of technology has seeped into our increasingly divided world.   As our technology-based tools know no nuance we too have dispensed with it in our political and physical boardres. Art, with its endless gray zones, perspectives, and metaphors is the savior of our current condition. It targets what technology can't do for us; it reminds us of uncertainty as a form of knowledge, of gray zones, of contradictions that we live better when we live with.
How does this work go with your oeuvre?
In my practice I hack powerful systems with art, code and glitter through first making Vision Boards that I then program to become top internet search results.  I like to hack my way into powerful art world institutions such as "Contemporary Art Auction Record" but also to look at other things I want to change such as our rigid idea of national boundaries with "Map of the EU."
What is the fascination about mixing reality and personal/political wishes?
While I am very ambitious and open about my desire to succeed in the art world and in a material, financial sense this is not the only important thing to me.  My "Map of the EU" series is my international version of my hack of the American presidential election. It is important to show how information can be manipulated in a political sense and also to dream about the politics we do want in our world. It is the same process and has the potential to bring more people into it.
What do you like about collages, what is their potential?
Collages have the ability to connect art to the everyday. I am always looking for new materials and I found some really great ones at Linz's Saturday morning flea market.  The world we create as artists are always made up from the real world as a source and I like keeping that bridge obvious.  For my "Map of the EU" series I found lots of existing maps, and symbols of the world such as patches and coins.
Websites