Announcement: kristallin #43 & #44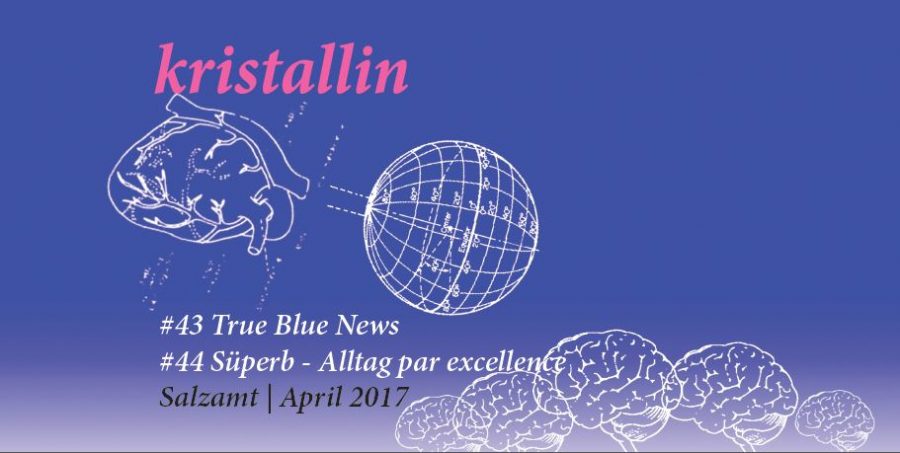 Wir laden Sie herzlich ein:
kristallin#43 | Mittwoch, 5. April 2017, 19 Uhr True Blue News
A performative talk-discussion-news-broadcast-concert party thing with Utopic tones. Coming to a screen near you via DORFTV and LIVE! at the Salzamt, 19:30, 5th April 2017 from Sam Bunn, Davide Bevilacqua, Sebastian Six and Dave Perlis (USA) and Robert Storey (UK), a 13 part 'Choir of the Future' and various Citizens of the World.
Project Space: Maria Bichler "Ein reisendes Studiolo"
In dieser Masterarbeit wird der Status Quo des jungen Künstlers hinterfragt. Das daraus entwickelte aufklappbare, mobile Atelier schafft eine neue Basis und Struktur um als Artist in Residence an verschiedene Orte zu reisen.
Miniatür im Boden: Katharina Lackner "Imagine a universe"
kristallin#44 | Mittwoch, 19. April 2017, 19 Uhr "Süperb" – Alltag par excellence.
Julia Gutweniger und Sigrid Krenner, die derzeit Ateliers im Salzamt nutzen, zeigen zusammen mit der Gastkünstlerin Karina Küffner (D), was so los ist, nie passiert und noch werden kann.
Am Mittwoch, 10.Mai um 19 Uhr Filmscreening von Julia Gutwenigers und Florian Koflers Dokumentarfilm
BRENNERO/BRENNER (2017, 67min), www.villamondeo.com
www.mariabichler.at // www.juliagutweniger.com // sigridkrenner.weebly.com // www.salon.io/karinakueffner