Studio Visit: Jan Zdvořák
Jan Zdvořák is a Czech artist who is presently on a two-month artist-in-residence stay in the Salzamt, sponsored by the European CreArt project.
Jan does not regard himself as a painter, although a good part of his work consists of large paintings. All of theses pictures, however, show a sort of alphabet, composed of fanciful letters arranged in tiles. Jan derives these letter forms from latin or cyrillic fonts, but changes them by distorting, embroidering and abstracting the original forms. In this manner, he started a series of letter paintings which will comprise twelve (12 is a good number, Jan told me) pieces when finished. During his stay in the Salzamt he started three of these works and will hopefully be able to finish them.
Beside his painting, Jan loves to do installations in public space, some of them of remarkable size. His works could be seen in many famous places throughout the world, including Prague, Lima, Istanbul and even L'Alpe d'Huez, the famous winter sports resort in the french alps. Examples of his installations can be found on his web page http://janzdvorak.com/.
During his stay in Linz Jan created an installation in front of the New City Hall. If feasible, further attempts on other places might follow.
As Jan told me, he feels himself not as an artist in the first place, rather as a straightforward man who follows his own way.
The following pictures were taken in his studio where he will stay until end of July.
Pictures: Viktor Köpruner, Jan Zdvořák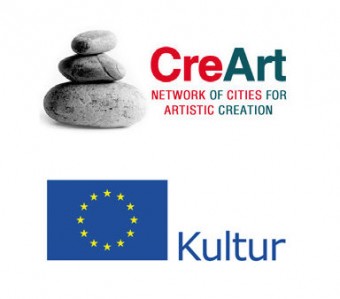 Dieses Projekt wurde mit Unterstützung der Europäischen Union finanziert.