Studio Visit: Saelia Aparicio
Saelia Aparicio is presently staying as an artist in residence in the Salzamt. She was invited as part of the CreArt Project of the European Union which supports the exchange of art and artists within the EU.
Saelia, born in Spain, has been living in London since two years and wants to stay there for the foreseeable future. Her type of art work are installations, often several elements forming a narrative series, arising in visual tales. Her favorite materials include paper, wire mesh and fabric held together by glue. Use of fabrics sometimes gives deceptive results, looking painted but really only printed.
During her stay in the Salzamt, Saelia started to work with ceramics in an external workshop. Presently, plant pots are her favorite objects. She tries to model different emotional expressions, sad or happy, which should appear together with the plants cropped in the pots.
The following pictures were taken in her studio in the Salzamt.
Photographs: Viktor Köpruner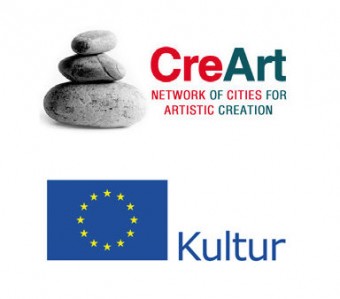 Dieses Projekt wurde mit Unterstützung der Europäischen Union finanziert.