Studio Visit: Marianne Hamersma
Dutch artist Marianne Hamersma is staying presently as artist in residence in the Salzamt. She enjoys walking through Linz and the surrounding areas. During her walks she observes very closely streets, buildings, things, colours and people. For example, the sweet pastel colours of the ice cream people are consuming very frequently these days were catching her eyes.
During one of her walks to the Pleschinger See she noticed nordic walkers drawing their sticks behind them without any obvious effect. Out of this impression she started an art work (preliminary titled as "Nordic Walking breaks my heart") where she is reflecting the day watching the poor nordic walkers, spending their money for useless sticks driven only by smart marketing tricks.
Marianne spends a lot of time in a workshop doing ceramics. There she created a model of the shoreline of the Pleschinger See which will become part of her work.
Another region of interest are the designs of product packages found in every supermarket. What if I remove the signs of the product itself and direct my attention only to patterns and coulours? What has design to do with the product it encases? These thoughts evoke ideas how to use parts of the design in her work. One interesting aspect she found in the package of sugar carrots. In the past, nets were used for this kind of vegetables, but nowadays the carrots are put into plastic bags with a net pattern printed on it. Such things seem rather strange…
Following pictures were taken in Mariannes studio. Later on, some pictures done by herself from her work in the ceramics workshop and a text by herself will follow.
Pictures: Viktor Köpruner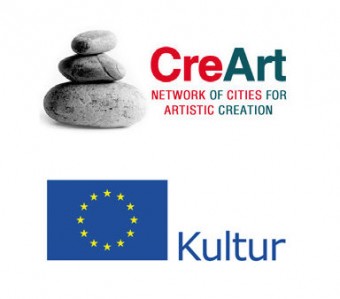 Dieses Projekt wurde mit Unterstützung der Europäischen Union finanziert.