Studio Visit: Imola Veres
Imola Veres is a Romanian artist who is interested in the structures of complex networks, in the similarities of macroscopic and microscopic world and how to transform these categories into aesthetic metaphors. For her artwork she uses different types of fabrics in an experimental way to create her installations.
Until now she worked in a classical way by using normal textiles like linen or silk with techniques like painting, transfer prints or digital prints. Now she is looking for more sophisticated materials, e.g. those which have a kind of "memory effect" that will add a time dimension to her work.
During her stay in the Salzamt as participant in the CreArt project of the European Union she prepares some items for an Open Studio Show in the Salzamt in three weeks. Additionally, she will take care for an artistic facelift of the entrance to the neighboring construction site. The progress of this work will be described later in an extra article.
Photos: Viktor Köpruner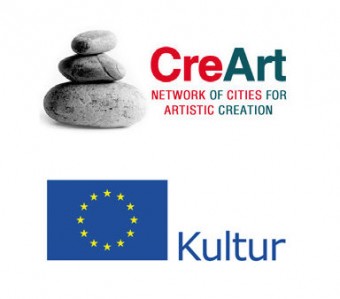 Dieses Projekt wurde mit Unterstützung der Europäischen Union finanziert.