Studio Visit: Bogdan Dinu
Bogdan Dinu was our guest in the Salzamt already last year. This was, unfortunately, when the big flood devastated our house and spoilt Bogdans stay. Thís was why he had to leave earlier than planned and was invited a second time to get the chance to complete his mission.
Bogdan is a Romanian painter who is working in a classical style, i.e. acrylic and canvas. His topics are related to his life and his environment. His observations do not try to be objective, rather he is looking from inside himself to the outer world – "What happens around me?" Thus, Bogdan takes his work as an ironic way to react to events in his life and in the world. His works mostly consist of series.
As an example, the two paintings shown in the last photograph deal with his reaction when coming to Austria for the first time…
Pictures: Viktor Köpruner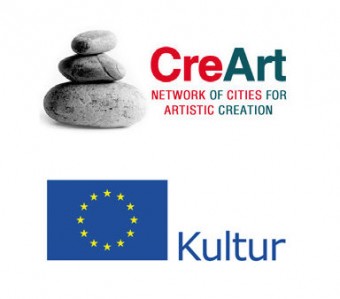 Dieses Projekt wurde mit Unterstützung der Europäischen Union finanziert.